In the Fall of 2016, SpringFour was selected to join 1871's WiSTEM cohort, a program designed to foster success and opportunities for women in technology through intensive mentorship and programming. As part of the cohort, our team went through the rigorous twelve-week program along with twelve other women-led tech companies, culminating in a final showcase.
The WiSTEM showcase was held in February, where each of the Fall 2016 WiSTEM cohort companies presented and their hard work was celebrated. The showcase allowed each of the companies the opportunity to communicate their mission to an enormous crowd of over 500 leaders in the tech community throughout Chicago. Additionally, the attendees included students from the Walt Disney Magnet School Computer Science Club and the Chicago-area members of the Young Entrepreneurs Academy, inspiring the next generation of innovators and creators.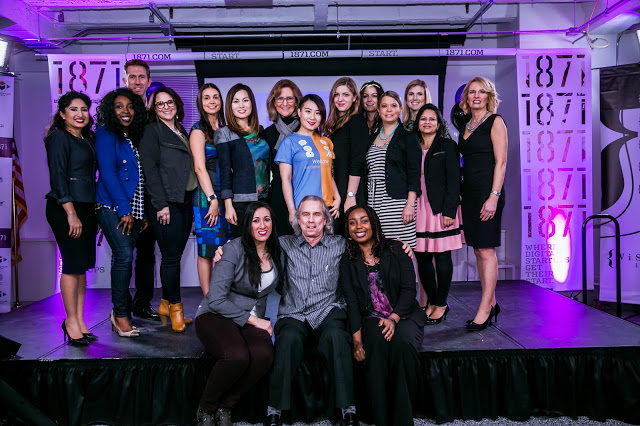 Photo Credit: Gregory Rothstein
WiSTEM cohort members with 1871 CEO, Howard Tullman.
SpringFour was able to showcase to this audience not only the platform's capability to connect consumers to financial resources, but why consumer financial health is also great for business. CEO Rochelle Gorey shared real stories of consumers whose daily financial lives and health were transformed because they were allowed access to excellent resources. Connecting these consumers to the right resources significantly changes their financial outlook and in turn improves the rate at which they are able to pay back a loan or pay off their credit card debt.
SpringFour is uniquely beneficial for both consumers and businesses alike, and the opportunity to showcase the impact of our win-win model to an audience of leaders in the Chicago tech community was invaluable.
WiSTEM also provided the opportunity to work closely with, and learn from, the fellow women in our cohort. As we each continue to work on strengthening our businesses, even after the conclusion of the WiSTEM program, the cohort group will build upon these relationships. These fellow founders and CEOs have inspired us and proved to be invaluable sources of support and guidance as we continue to grow. We are extremely grateful to have been a part of this amazing group of entrepreneurs and to have the support of the community at 1871.