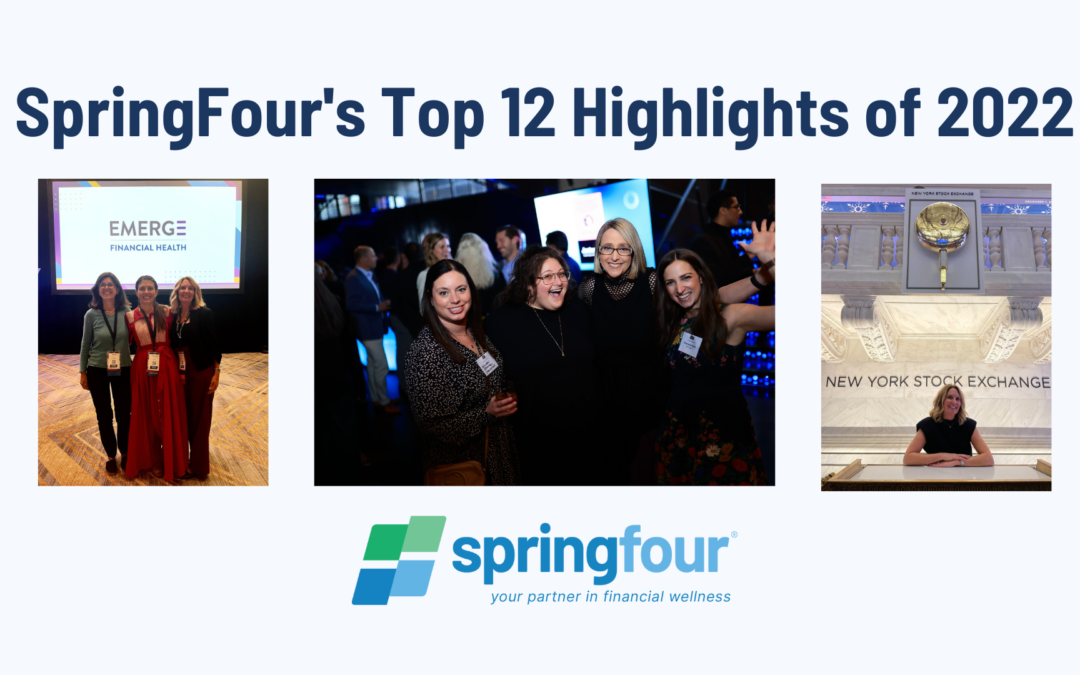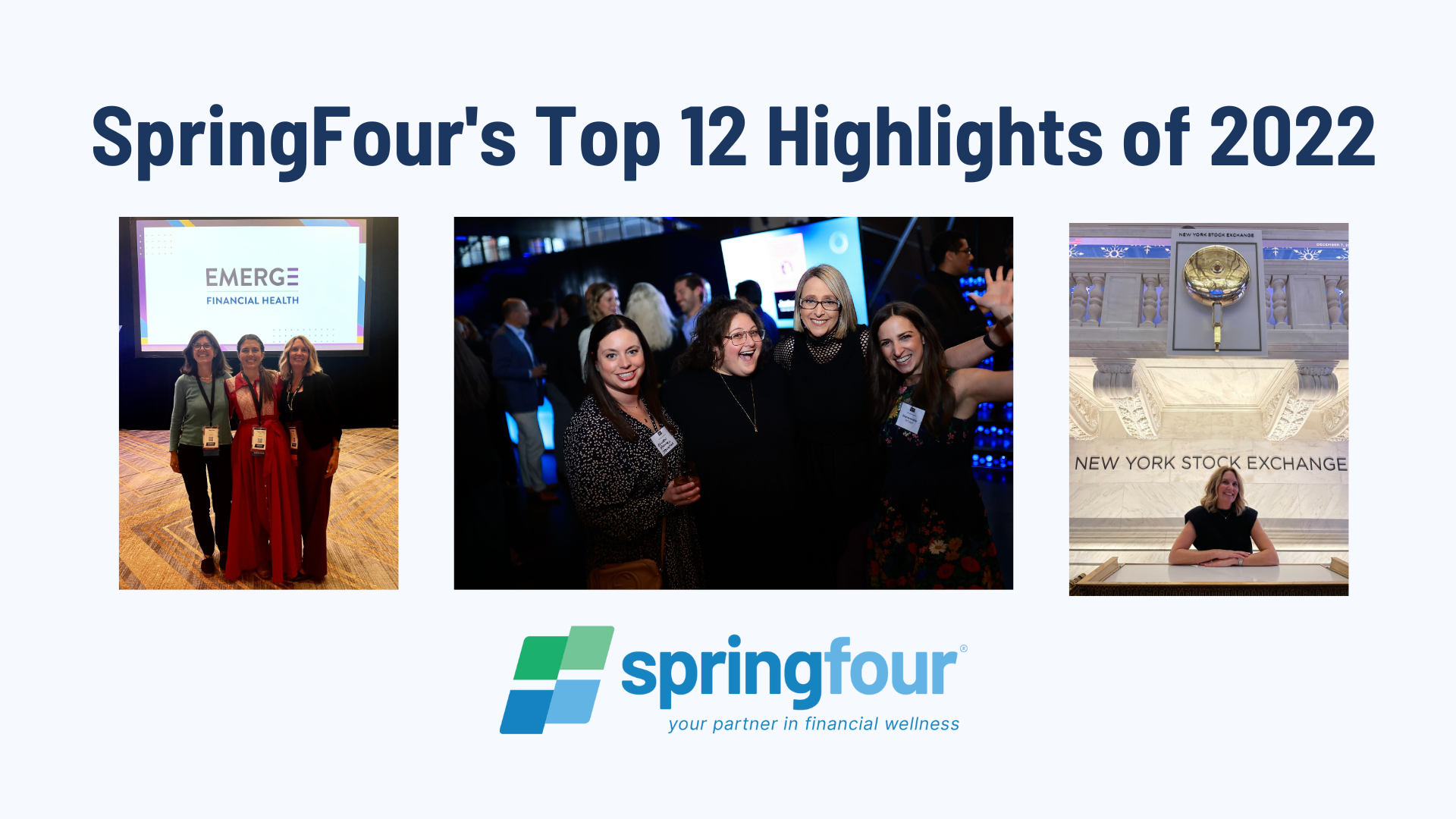 SpringFour's Top 12 Highlights of 2022
2022 has been a year of great achievements for SpringFour. From new product developments and enhancements to press, awards, and media features, there's so much good news to share.
But, as inflation soars and a potential upcoming recession remains ahead, it's important to stay on mission and remember where our success comes from. Consumers across the country are struggling, and they need support from their banks and financial institutions. 
SpringFour continues to work hard to connect as many consumers as possible to valuable financial health resources that can make a difference. We lead with empathy, keeping consumers' financial wellness at the forefront of all we do. Our mission remains to eliminate the stigma associated with financial hardship and bring innovative solutions to the industry to help improve payment outcomes and overall financial health. 
With this mindset, we are proud to share our top 12 highlights from 2022 and to celebrate all we've accomplished this year with our partners.
1. 4 Million Financial Health Referrals Delivered: Delivering more referrals in a year than ever before, SpringFour was able to connect consumers with more than 4 million referrals to vetted and valuable nonprofit and government resources in 2022. Last year, we delivered just over 3.1 million referrals, and pre-pandemic referral levels were around 1 million per year. Consumers are in need and it's critical to remember that behind each referral is a household in need.
2. New Deployments:  SpringFour saw many new deployments in 2022 with partners including top ten banks, regional banks and credit unions, consumer finance and auto lenders, employee relief providers, and more. We onboarded new partners and expanded already existing partnerships. A few of our new deployments included Mission Lane, which was featured in IBS Intelligence and Tearsheet, Purchasing Power, which was featured in Benefits Pro, and many more.
3. 5 New Team Members: SpringFour increased its talent and industry expertise by adding five new team members this year: Yasmine Anavi, EVP of Business Development and Strategic Partnerships, Vincent Frederico, Director of Client Engagement and Business Analytics, Colleen Maxwell, Director of Business Development and Compliance, Kate McCarthy, Director, Product Development and Client Experience, and Morgan Pierce, Impact and Communications Manager.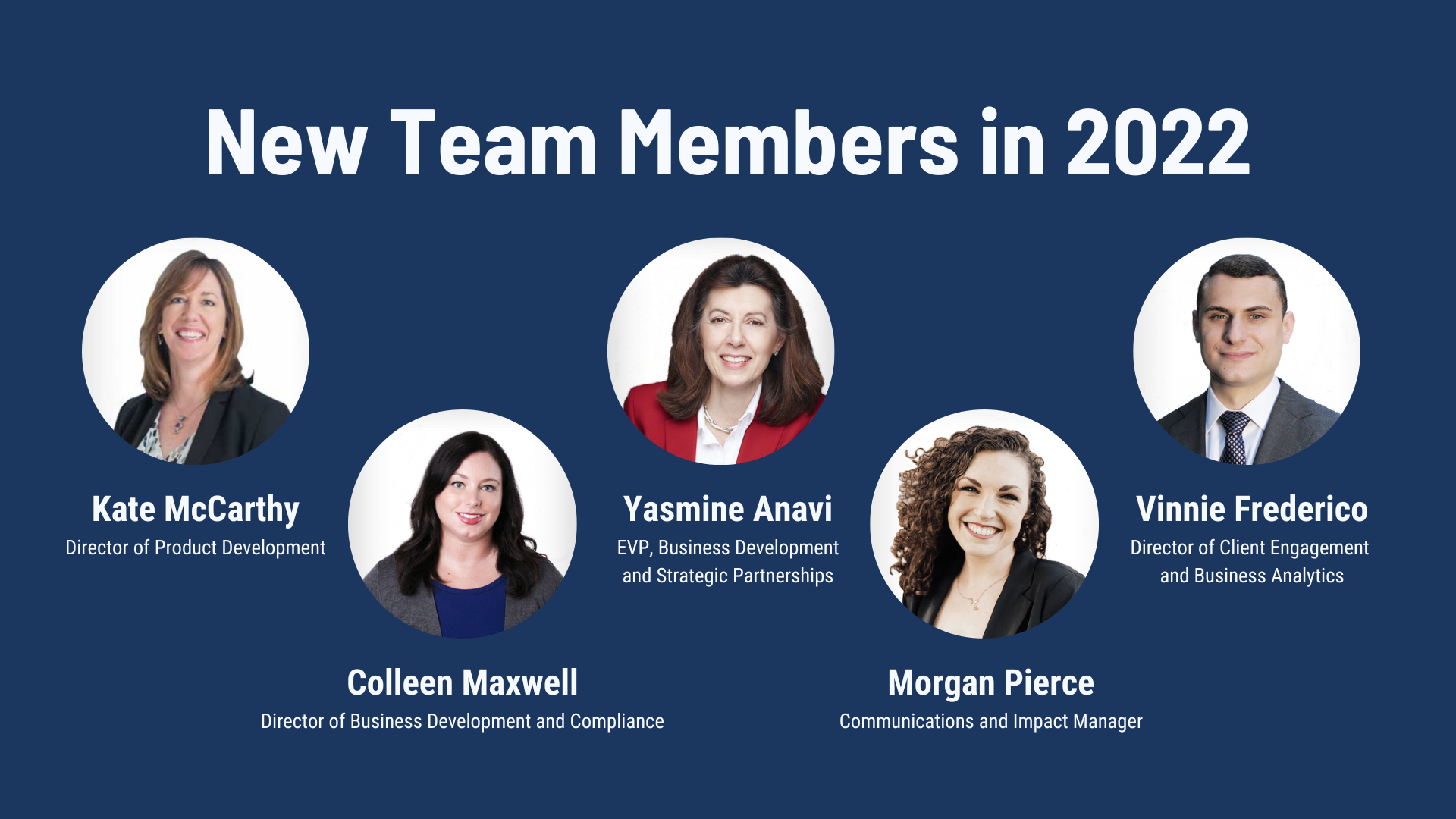 4. Honored with 3 Awards: Rochelle Nawrocki-Gorey and the SpringFour team were selected to receive three awards this year. Rochelle was named a 2022 Lendit Fintech Woman of the Year Finalist, having demonstrated outstanding leadership, integrity, performance, and a commitment to fostering gender diversity both within her company and in the industry at large. SpringFour was also named a first-ever Social Impact Award finalist at the 1871 Chicago Momentum Awards because of its commitment to DEI, community contributions, and social impact. Most recently, Rochelle was named a 2022 Inspiring Fintech Female by NYC Fintech Women in the Founders category. Rochelle was honored in a celebration held at the New York Stock Exchange alongside the other winners. As a certified B, social impact fintech, SpringFour is proud to be honored among other industry leaders with these recognitions.

5. Participated in 4 Speaking Engagements: SpringFour is proud to be recognized as a trusted industry thought leader, having participated in multiple events this year to share our expertise. CEO & Co-Founder Rochelle Nawrocki-Gorey participated in a panel at Financial Health Network's EMERGE Conference titled, "Making ESG Part of Your Financial Health Strategy," which dove into how companies can successfully incorporate financial health metrics into their ESG strategies. At the Massachusetts Community & Banking Council's Inaugural Financial Equity Summit, Rochelle spoke about the promises and pitfalls of fintech. Rochelle also shared her experience as a founder on a panel at the 39th Annual Celebration of Achievement for NAWBO Chicago, "The Power of Community: Support, Energy, & Rejuvenation,  discussing best practices and ideas for pitching your company both onstage and beyond. Together with one of our partners, Purchasing Power, Rochelle participated in the webinar, "Creating Financial Wellness Benefits to Support the Immediate Needs of Your Workforce," diving into the reality of financial stress, the role employers play today with financial wellness, and how access to immediate solutions can make an organization an employer of choice. 
6. Featured in 4 Partners' ESG Reports and Published ESG Thought Leadership: With ESG a core priority across industries, SpringFour is proud to be at the forefront of this work. Our customers recognize that a partnership with SpringFour is crucial to achieving their ESG metrics and goals. This year, four of our partners highlighted their partnerships with SpringFour as key to their companies' ESG initiatives: M&T Bank, OppFi, BMO Financial Group, and Oportun. SpringFour was highlighted at BMO Financial Group's Annual Shareholder meeting, with this notable remark from the CEO, Darryl White: "Our ability to leverage partnerships, whether from the very largest firms or very newest fintechs, has helped enhance our competitive position, drive growth, disrupt competitors, and make progress against our efficiency commitments." In May 2022, SpringFour released a case study titled, "SpringFour is Integral to ESG: Financial Health is Social Impact." This report shares the incredible ESG work that our partners, including BMO Financial Group, Mariner Finance, M&T Bank, OppFi, and Oportun, are turning to SpringFour to achieve. SpringFour shared its thought leadership in BAI in an article, "How Banks can Prioritize the "S" in ESG."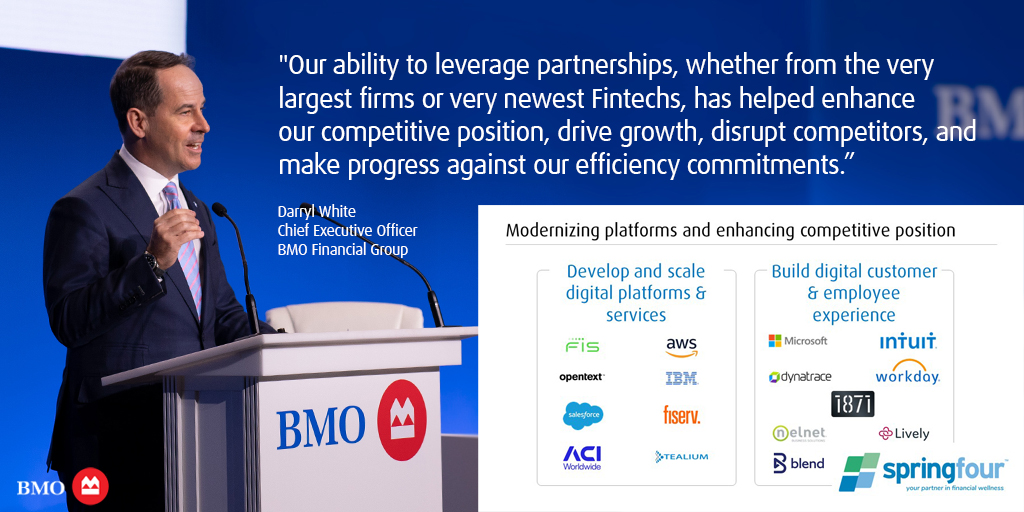 7. Highlights of SpringFour's Impact with Leading Organizations: SpringFour was featured in the press with articles highlighting SpringFour, published thought leadership articles, books, and podcasts. SpringFour was featured in Innovations of the World's book featuring new innovations in diverse industries. See an online version of the book: "SpringFour: How a Social Impact Fintech is Improving the Financial Health of Millions". Rochelle Nawrocki-Gorey also spoke on a podcast that features women entrepreneurs called Invisible Ink in the episode, "Bootstrapping a Social Venture in Fintech." Badcredit.org published the feature,  "SpringFour Connects Bank Customers With Financial Wellness Resources,". These are just a few of the many press features we received this year.
8. Published Financial Health Thought Leadership: SpringFour published thought leadership about an array of critical topics this year, from fintech banking partnerships to preparing for a possible recession. Rochelle Gorey's thought leadership was featured in Global Banking & Finance, "A recession may be coming. Are banks ready to help their customers?" Rochelle was also featured twice in BAI, on the podcast titled "Customer financial health should be a top priority," and an article titled, "How fintechs can push banking innovation." In BankingExchange, Rochelle partnered with Dr. Jay Michael Collins, SpringFour Co-Founder, on the article, "Banks helped us avoid a repeat of the 2008 financial crisis."
9. 16 New Financial Health Resource Guides: Every year, SpringFour authors Financial Health Resource Guides that provide expertise on a variety of financial health topics. SpringFour has been creating these guides since 2020 and has already accumulated 16 expert guides. New additions this year include Finding Affordable Child Care, Paying for Home Repair, and an updated guide on Paying for Student Loan Debt. 
10. Creating Meaningful Impact with Our Partners: We work hard to build trust and engagement with our clients. This focus on top-notch engagement has resulted in these powerful testimonials from our clients that celebrate the work we've accomplished together.  
11. Newly-Redesigned S4pro Tool Is Easier to Use Than Ever: Each day, agents use our S4pro tool to deliver thousands of financial health referrals to those in need. This year, our clients saw the benefit of a newly redesigned product that made it easier than ever for agents to share customized financial health resources with their customers, providing them with the support they needed when they needed it. We heard feedback from agents such as, "It's easier and quicker to send resources." Read more about the redesign here.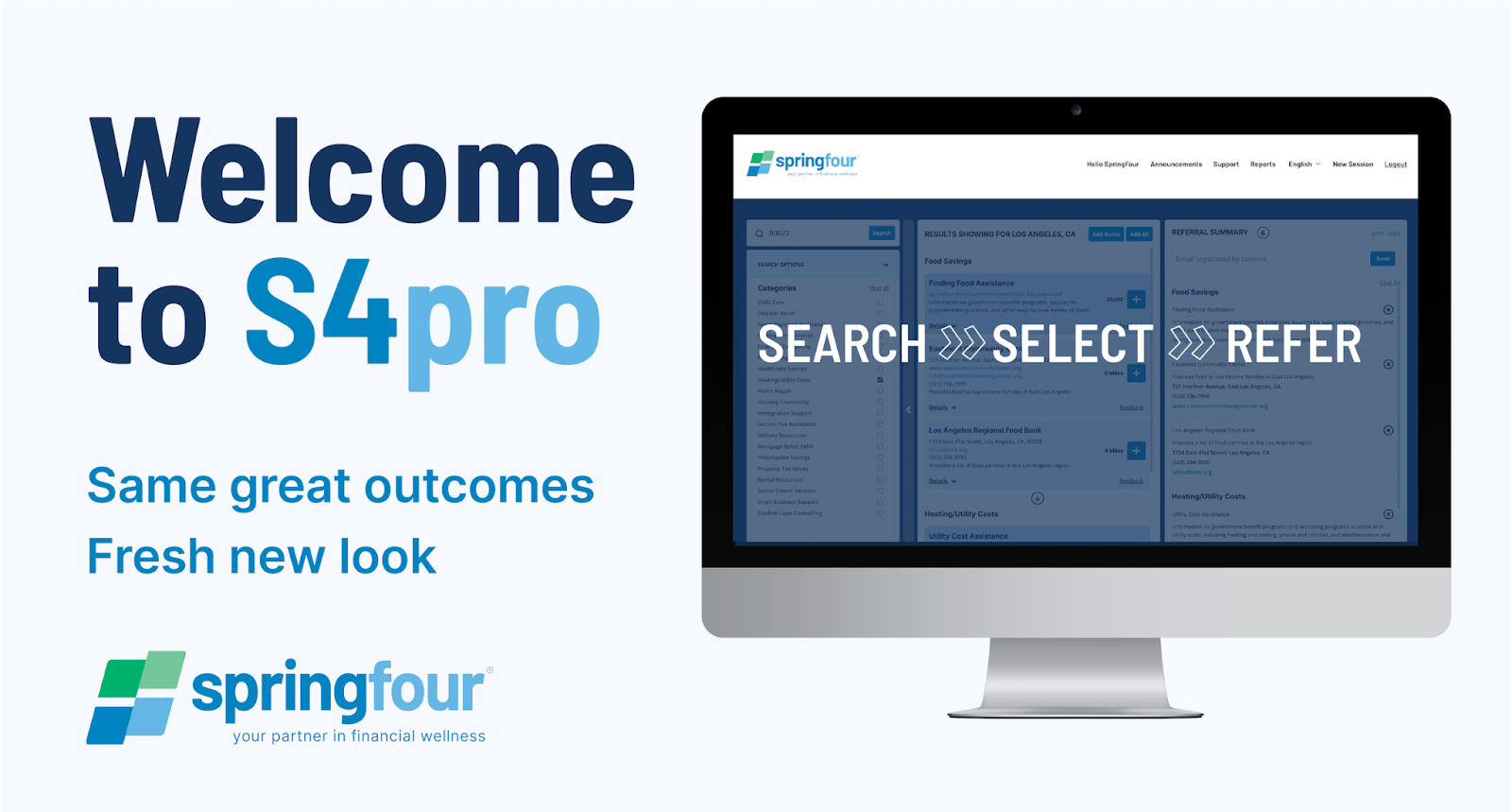 12. 40 New Cities and Over 1,800 New Resources Added: SpringFour's Resource Integrity Team is constantly hard at work to vet, update, and maintain our database of over 21,000 financial health resources in more than 665 cities across the country. This year, our offerings expanded to provide full coverage in 40 more cities than last year. More than 1,800 new resources were added to the database this year. 
SpringFour's mission always has been and will be to change the way consumers experience financial hardship. Consumers need and deserve direction to assistance when faced with financial challenges. When innovative financial health strategies are adopted, the financial services industry benefits, too. SpringFour's solutions create a win-win: positively impacting businesses' bottom lines while improving the financial health of consumers across the country. 
Thank you for joining us in celebration of what, together, we've accomplished in 2022. We look forward to the major strides we'll make together in 2023.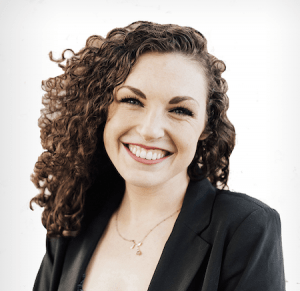 Morgan Pierce
Client Success and Impact Associate

DRIVE IMPACT WITH US
For all inquiries: info@springfour.com
866-732-2246
Chicago Office at 1871
222 Merchandise Mart Plaza
STAY UP TO DATE WITH SPRINGFOUR
[/db_pb_signup]