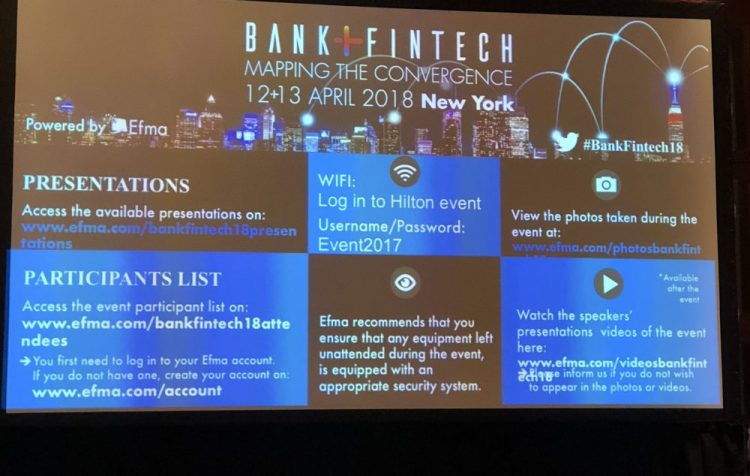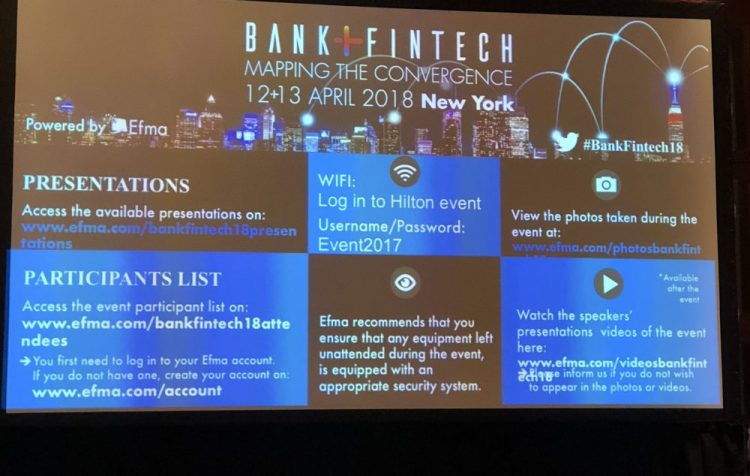 Last week, I had the opportunity to travel to New York City to speak at the 
Efma Bank+Fintech Conference
. Efma, a not-for-profit association formed in 1971 by bankers and insurers, specializes in retail financial marketing and distribution. Today, more than 3,300 financial institutions in 130 countries are Efma members including over 80% of Europe's largest retail financial institutions.
It was a true privilege to be a featured speaker at their first event held in the United States, which was attended by global leaders in financial services.
As I mentioned at the beginning of my talk in New York, it was an honor to have the opportunity to share with the audience the story of SpringFour and the impact we create together with our bank partners. It's thrilling to have started a company based on a simple yet powerful idea. That connections matter. And that by creating a technology solution that powers these connections or referrals to local, financial wellness resources, people can get back on track with their payments and improve their financial health. We are making a difference and we believe the ability to share our story on the Efma stage will help bring more resources to those in need.
Rochelle Gorey presenting at Efma Conference
Because the theme of the conference was Bank + Fintech, we were there to talk about our work with BMO Harris Bank. This work came about as a result of the BMO Harris/1871 Fintech Partnership Program last year, which we were selected for and ultimately chosen as one of the top three winners. BMO Harris shared how they vet potential fintech partners, what they consider when deciding to do business with them, and the value they see in SpringFour.

Mike Butler (President & CEO Radius Bank), Tony Nicholas (CEO Alloy), John Schulte (CIO Merchantile Bank), Keith Armstrong (Co Founder & COO Abe.ai), Rochelle Gorey (Co-Founder and CEO SpringFour), Purva Sule (Director, Senior Relationship Manager BMO Financial Group)
At SpringFour, we recognize the importance of working alongside financial institutions to deliver financial health resources to consumers. We could not do what we are doing without our bank partners. And when we say partners, we mean it. I often tell potential clients that we do not view ourselves as vendors. In fact, the first time a potential client referred to us as a vendor I was a bit taken aback. From our first conversation with a potential client, we view them as our partner in delivering financial wellness solutions.
Never have we thought of our relationships with our clients as transactional. And that makes a huge difference in the relationships we create with our bank clients as well as in our ability to create impact. We work with our clients every step of the way to understand the problem that they are trying to solve and maintain an open relationship. In this way, we can craft and create innovative solutions together. Our bank partners know that when they utilize SpringFour's platform, they are getting everything they need to help increase repayment rates and help their borrowers.
Let me know if you want to learn more about how to become a partner with SpringFour and join us in our pursuit of financial health.
---
Rochelle Nawrocki Gorey
Co-Founder & CEO

GET IN TOUCH
For all inquiries: info@springfour.com
866-732-2246
Chicago Office at 1871
222 Merchandise Mart Plaza
STAY UP TO DATE WITH SPRINGFOUR
[/db_pb_signup]