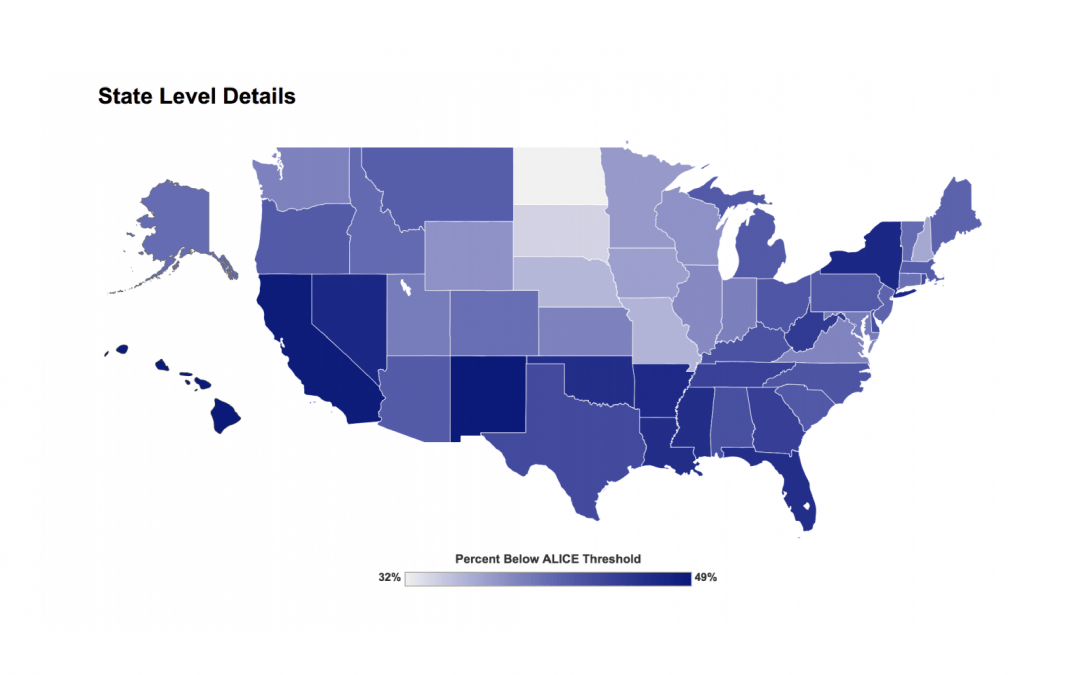 Financial wellness isn't something that just a few Americans need to worry about. In fact, more Americans than ever are struggling with everyday financial issues. And these are people who are working, who go to their jobs every day and live above the official poverty line, but yet don't have enough money to pay ordinary expenses (rent, transportation, childcare and a cellphone). In fact, according to a new study conducted by the United Way, more than 40% Of U.S. households can't pay the basics of a middle-class lifestyle.
The recently released study: "Working Hard But Struggling to Survive" looked at just this population of Americans. Named the acronym "ALICE" (standing for Asset Limited, Income Constrained, Employed), the United Way report calls out just how prevalent this issue is. As the report states, "ALICE is your child care worker, your parent on Social Security, the cashier at your supermarket, the gas attendant, the salesperson at your big box store, your waitress, a home health aide, an office clerk. ALICE cannot always pay the bills, has little or nothing in savings, and is forced to make tough choices such as deciding between quality child care or paying the rent. One unexpected car repair or medical bill can push these financially strapped families over the edge."
A variety of interactive maps show just how many across the country are living under the ALICE threshold, click the map below to see more:
At SpringFour, we understand who ALICE is and the millions she represents. In fact, ALICE is very similar to Jane, a fictional representation of a SpringFour beneficiary that has appeared in several of our pitches helping to illustrate the power referrals can have for someone living paycheck to paycheck.
We believe that people should not have to choose between paying their mortgage or paying their child care bill, and we know they need and deserve access to local resources that can help. When people are struggling they often do not know where to turn for this help. SpringFour referrals can help those living paycheck to paycheck find savings by connecting them to local nonprofit and government resources. We know that these types of referrals can help families save in a variety of budget categories. In fact, people receiving SpringFour referrals save on average $250 per month.
Get in touch with us if you would like to learn more about SpringFour can help your organization increase the financial wellness of your customers or employees.
---
Katie Gottschall Donohue, Vice President, Strategy and Operations
SpringFour, Inc.