The Power of Fintech: What I Learned at Fintech Meetup
I'm Morgan Pierce, Impact and Communications Manager at SpringFour. When I was an undergraduate student, I was an intern at SpringFour for a year. After taking a few different turns in my career, I re-joined the SpringFour team in July 2022 on a part-time basis, becoming a full-time member of the team in January 2023.
I focus on SpringFour's Communications and Impact efforts, including report writing, impact analysis, social media and newsletters, and more. I graduated from Purdue University with a Communications degree and have a passion for social impact and leveraging business to help people and change the world.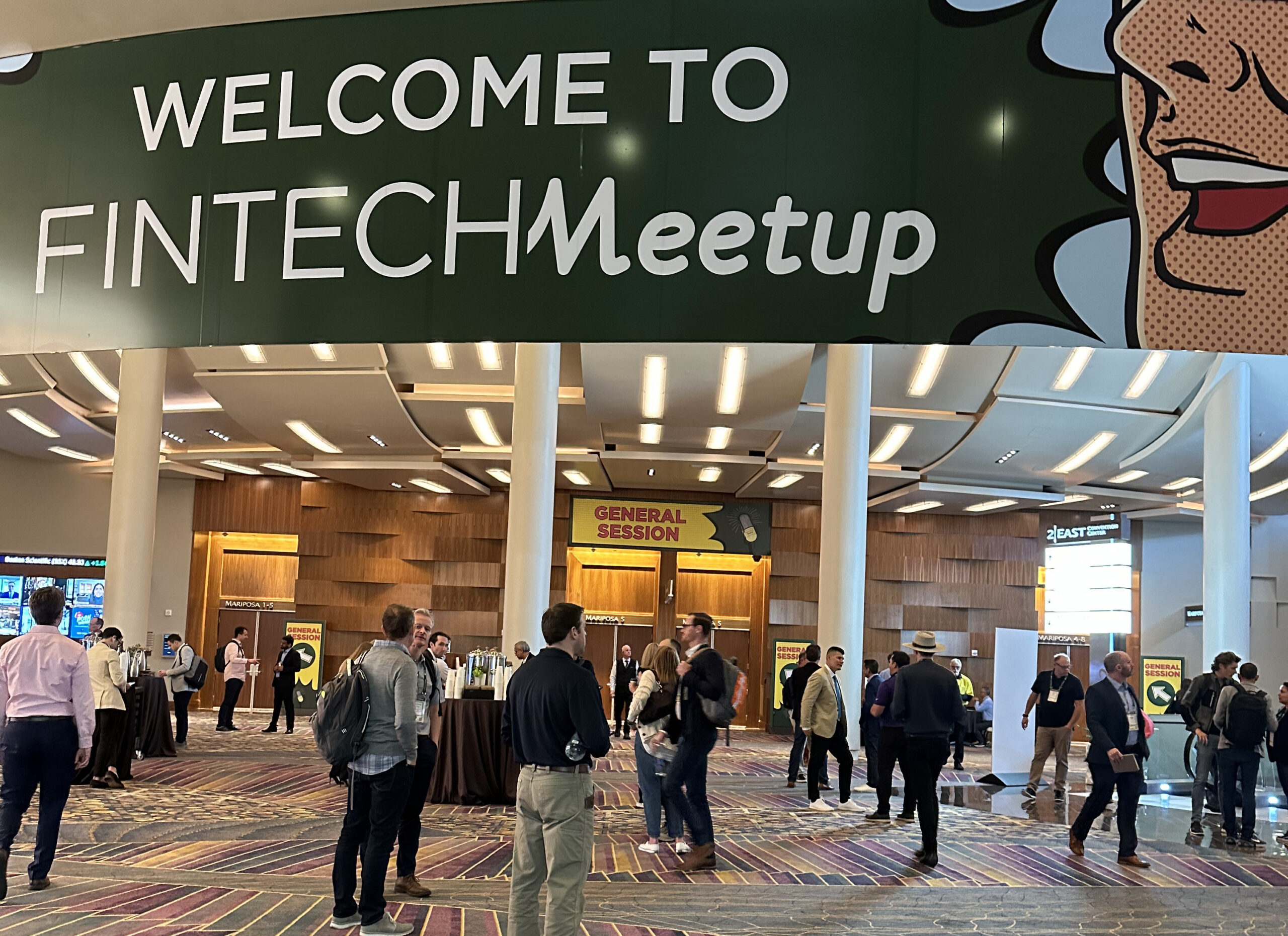 In my first few months as a full-time team member at SpringFour, I was given the opportunity to attend Fintech Meetup. This trip marked: 
– My first time attending a conference for work
– My first time visiting Las Vegas
– My first in-person event with SpringFour
To say I am thankful for this opportunity is an understatement, and I'm honestly floored at how much I was able to take in and learn in less than three days. 
SpringFour was invited to share our story at 1871 and BMO's WMNfintech lounge. Rochelle, SpringFour's CEO and Founder, was celebrated as a woman founder and given the opportunity to pitch SpringFour to conference attendees and other founders. I saw Rochelle share SpringFour's story and how it's become a critical solution for financial institutions.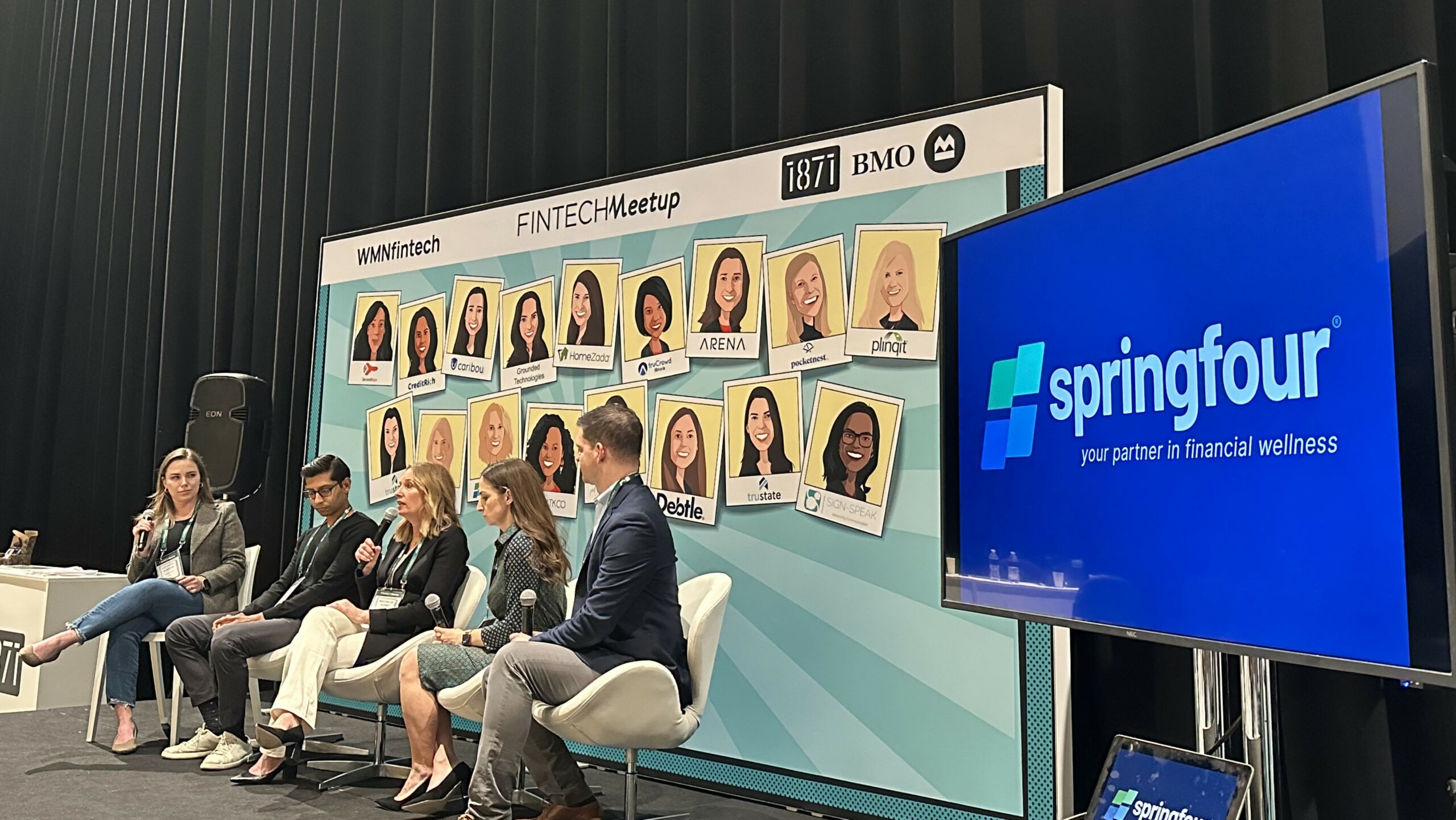 She also shared key insights as a panelist on World Business Chicago's "Masterclass on Chicago Fintech" about the tech ecosystem, investment trends, and the future of fintech in Chicago.

It was great to see BMO and 1871's WMNfintech program shining the light on the work we do because it is clear – women founders do not get enough attention or dollars despite creating revenue-generating, profitable and scalable companies. 
Since returning from Vegas, what has stuck with me the most are the thought-provoking themes and lessons that have changed my mindset and view on fintech.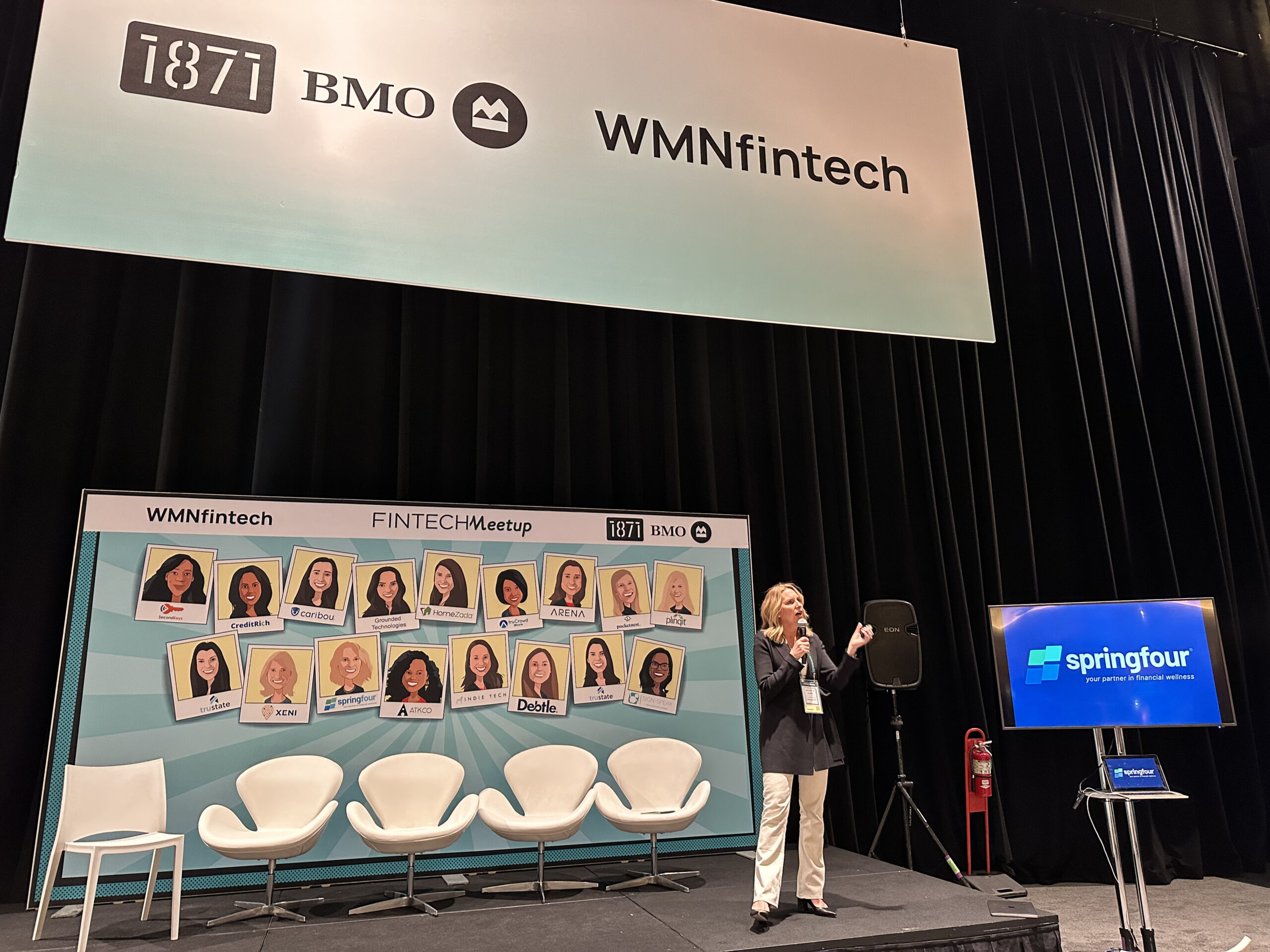 Our mission is to re-create at scale the stories that inspired us to build our company. 
Rochelle has always led SpringFour with the mission – the people – at the forefront. Long before "financial health" was an industry term, she knew there were nonprofit and government resources that could improve lives. She set out to create what she didn't know at the time was a social impact fintech that was empowering consumers' financial health before other players in the industry were even paying attention to consumer needs.  
Rochelle's background in community development and financial services, as well as her experience growing up in a low-income household, gave her the foresight to build SpringFour, the innovative solution that helps financial institutions deliver those resources to consumers. Rochelle's background inspires her to stay focused on helping as many people as possible by connecting them to free, vetted resources through SpringFour. She embodies this mission every day which makes going to work easy, motivates me to do my best, and helps me feel good about what we're doing. 
Behind every one of SpringFour's referrals to free, personalized financial resources is a story. Our driving force is seeing people being directed to free resources that can improve their financial health.
Bank-fintech partnerships are uniquely positioned to drive real, unique, innovative value and expand consumer trust. 
According to a recent study done by MX, only 44% of respondents believe their financial providers have their best interest at heart. Nearly all financial institutions in 2023 need to build, re-build, or expand customer loyalty – and bank-fintech partnerships are an easy step in the right direction. Financial institutions who lead with empathy and adopt innovative financial health technologies do well in business. Mission-driven fintechs like SpringFour can help organizations better address real pain points by providing dependable financial assistance, increasing repayment rates, improving consumer trust, and empowering customers toward financial success.
There is power in leveraging data to anticipate consumer needs, which helps us build effective solutions that truly address those challenges.
As a Liberal Arts major in college, I used to cringe at the word "data," thinking of it as a big pile of overwhelm and numbers that didn't connect me quickly enough to the person with the story. Now I know that data is a powerful tool we can leverage to deeper understand the unique stories and needs of the people who use SpringFour. Data helps us provide timely, proactive insights that enable people to get ahead of decisions and empower them to improve their financial health.
Business strategy is not merely reporting numbers, it's capitalizing on a company's unique competitive advantage.
Going to Fintech Meetup not only reminded me how special SpringFour is, but many people that I met also confirmed what we are doing in the fintech space is different and that it matters. SpringFour creates win-win-wins: improving business performance, increasing customer trust and loyalty, and empowering consumers toward financial success. That's not to mention the improvements in employee satisfaction, foreclosure prevention efforts, NPS, and ESG outcomes that happen as a result of partnerships with SpringFour. Every single day, we are helping people, and that not only feels good — it makes business sense.
Fintech has made great advances in DEI and gender equity, but there's still a long way to go.
Fintech Meetup allowed me to learn from inspiring women who are paving the way and empowering more people in fintech toward success. Women who are building innovative, successful business models that can change the world. Women providing valuable industry insights and driving important conversations. Women who are never giving up and always fighting for a more equitable fintech community. Women who persevere, even when supporting women in fintech is all the rage in conversation – yet in practice, the glaring inequities continue.
I left Vegas feeling thankful for the opportunity to attend and energized by this work. I learned so much from driven people creating successful businesses that innovate, empower, and make the world a better place. 
I am grateful to work with the amazing people on the SpringFour team, each of which is integral to fostering SpringFour's innovative, supportive work culture and driving meaningful change.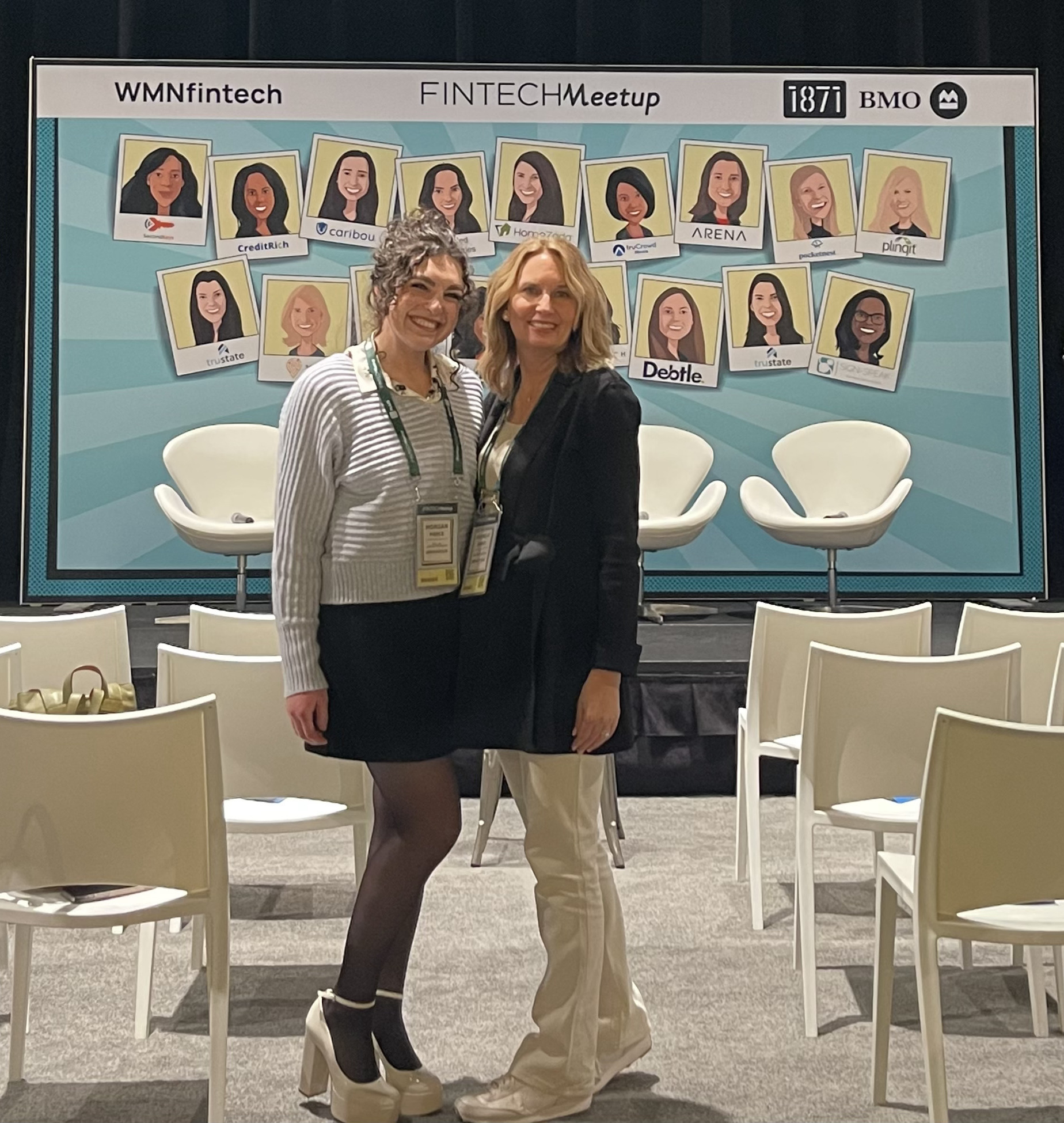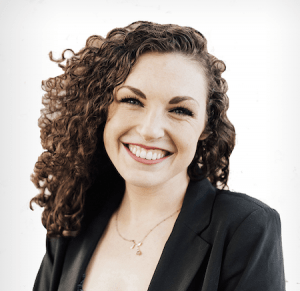 Morgan Pierce
Impact and Communications Manager

DRIVE IMPACT WITH US
For all inquiries: info@springfour.com
866-732-2246
Chicago Office at 1871
222 Merchandise Mart Plaza
STAY UP TO DATE WITH SPRINGFOUR
[/db_pb_signup]