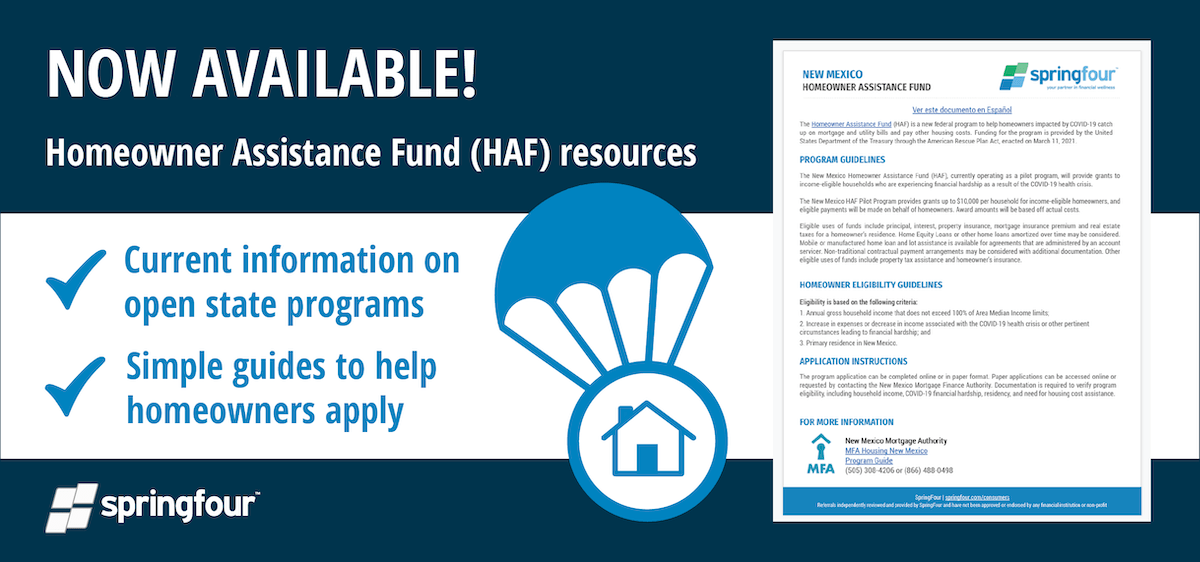 SpringFour: A One-Stop Shop for Homeowner Assistance
The Homeowner Assistance Fund (HAF) is a new federal program to help homeowners impacted by COVID-19 catch up on mortgage and utility bills and pay other housing costs. Funding for the program is provided by the United States Department of the Treasury through the American Rescue Plan Act, and will be rolled out as states develop their programs over the coming months.
We expect most states to have programs rolled out by September, and are poised to serve as a one-stop shop of information on each individual state program. SpringFour has created a category, Mortgage Relief (HAF) to connect homeowners to information about the HAF resources available in their state. Our team is actively tracking programs and adding information about eligibility and the application process. Expert authored guides provide a quick way for homeowners to understand the options in their state. We include contact information and eligibility and application information; our resources are updated daily. Our tip sheets on each state program provide extensive information for servicers, banks, and others to use. SpringFour is unique in its ability to serve as an expert one-stop shop of information on HAF programs throughout the country.
In addition to being a one-stop shop for information on HAF, SpringFour is proud to announce a new offering: S4direct for Mortgage Servicers. This custom tool enables servicers to utilize SpringFour's S4direct technology solution to connect borrowers to effective and vetted mortgage assistance programs, HAF state funds, HUD certified counselors and other basic need resources.
S4direct for Mortgage Servicers is an easy to implement digital solution that enables quick and simple access to the most up-to-date and vetted resources – helping borrowers find the most accurate and timely information pertaining to HAF, HUD-certified housing counseling, and basic needs. This SpringFour direct limited edition is designed to go to market in 15 days or less–meeting consumer demand and regulatory requirements/CFPB guidance.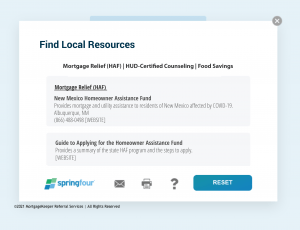 And why do so many financial institutions and credit counseling organizations look to SpringFour as their source of housing program information? Because we've been providing this information since our founding in 2005. For over a decade, SpringFour has served as the trusted source for information on Hardest-hit funds, foreclosure laws, local HUD-approved counselors, fair housing resources, and, most recently, Emergency Rental Assistance. 
"Housing counseling from nonprofit HUD intermediaries like MMI allows homeowners to borrow upon the expertise of their counselor during what is often an unfamiliar and traumatic experience. Overall, 79% of our clients report a reduction in stress after counseling."

— Jamie Payne, Senior Director of Counseling, MMI
For more information about how you can leverage HAF and other housing resources for your customers contact sales@springfour.com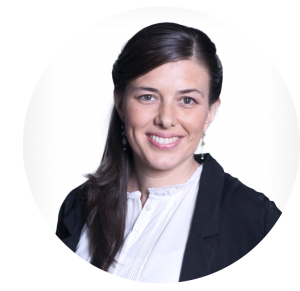 Cassandra Compton Vice President, Data Integrity & User Experience, SpringFour

GET IN TOUCH
For all inquiries: info@springfour.com
866-732-2246
Chicago Office at 1871
222 Merchandise Mart Plaza
STAY UP TO DATE WITH SPRINGFOUR
[/db_pb_signup]