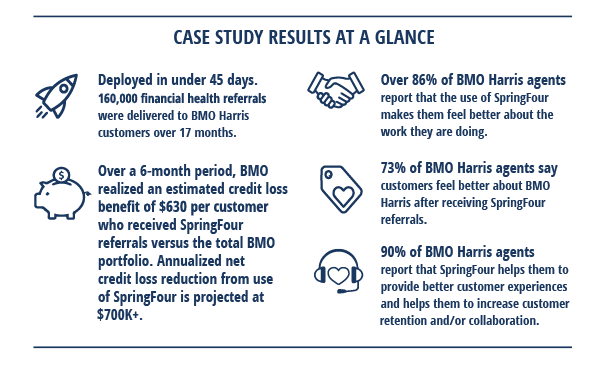 Helping Families Weather Financial Hardship: BMO Harris Bank Partners with SpringFour
Living up to their respective taglines, "we're here to help," and "your partner in financial wellness," BMO Harris and SpringFour have forged a powerful partnership that helps individuals and families in times of financial hardship. SpringFour believes that when consumers can't pay a bill or are living paycheck to paycheck, they need direction to local resources that can help. 
For more information about the BMO Harris and SpringFour partnership and its impacts, see the full case study HERE and read the story in the American Banker. Also, read the Forbes article that covers the partnership. 
The SpringFour business model provides exactly that: access to over 15,000 vetted local government and nonprofit resources in 25 categories, including over 2,500 resources specifically related to the COVID-19 pandemic in health, financial services and food security. Through its partnership with BMO Harris, SpringFour has been able to reach over 160,000 BMO Harris customers in need in 17 months. This has resulted in significant gains for the bank, both from the perspective of repayment rates and reputation lift and customer engagement. 
As families across the country grapple with challenges brought about by COVID-19, this partnership proves especially timely. Since the pandemic began, BMO Harris has seen SpringFour referrals spike by over 500%. 
"Deploying SpringFour's platform has enabled BMO Harris to provide financial resources to our customers who are then able to find opportunities for financial relief and to subsequently catch up on their payments. This has improved repayment rates and has resulted in declining delinquent balances, ultimately saving the bank hundreds of thousands of dollars within the first year alone." Ric Leitheiser Head of U.S. Collections BMO Harris Bank.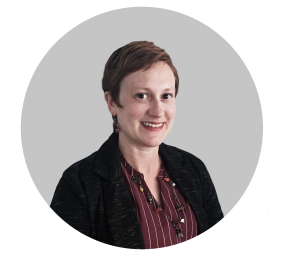 Katy Jacob
VP of Research & Impact, SpringFour

DRIVE IMPACT WITH US
For all inquiries: info@springfour.com
866-732-2246
Chicago Office at 1871
222 Merchandise Mart Plaza
STAY UP TO DATE WITH SPRINGFOUR
[/db_pb_signup]