Foreclosures in the U.S.: The Calm Before the Storm?
Economists and housing specialists are closely watching the impact of the COVID-19 crisis on current and impending foreclosure rates. Certain regions of the country are more at risk than others, with areas along the West Coast, clustered around New York, Massachusetts, Baltimore, and Washington, D.C., and numerous markets in the Chicago area,  more likely to see foreclosures as the pandemic continues. A recent poll conducted by NPR shows that 34% of households in Houston and 25% in Chicago are having serious difficulties paying their mortgage or rent; these trends hold throughout the country and are more severe for Black and Latino households.
For the first several months of the crisis, forbearance programs were in place in many markets. In April, homeowners stopped paying their mortgages in record numbers, culminating in almost one in ten mortgages being placed in forbearance. While 3.6 million mortgages continued to be in forbearance as of August 30, accounting for 7.6% of all mortgages, this is down from previous months. At some point, however, these programs will end — and at that point, we might begin to see major spikes in foreclosure rates. While the potential for large-scale evictions in the rental market looms larger in our collective consciousness, there remains a very real threat of a coming foreclosure crisis. SpringFour has seen some signs of this in its application usage data, and continues to monitor trends to uncover potential foreclosure issues.
Take, for example, the chart of SpringFour referrals below. This graph shows a sharp decline in demand for foreclosure counseling services in Q2 of 2020 over Q1, while other homeownership-related categories of need remained relatively constant. Through our partnerships with housing counselors and lenders, we know that this is because mortgage forbearance programs were in effect during Q2 as the pandemic took root, and households began to focus on other basic needs with the knowledge that at least temporarily, they would not lose their homes due to COVID-19. SpringFour has started to see demand for foreclosure counseling rise in Q3, however — and this is a trend that we are watching closely.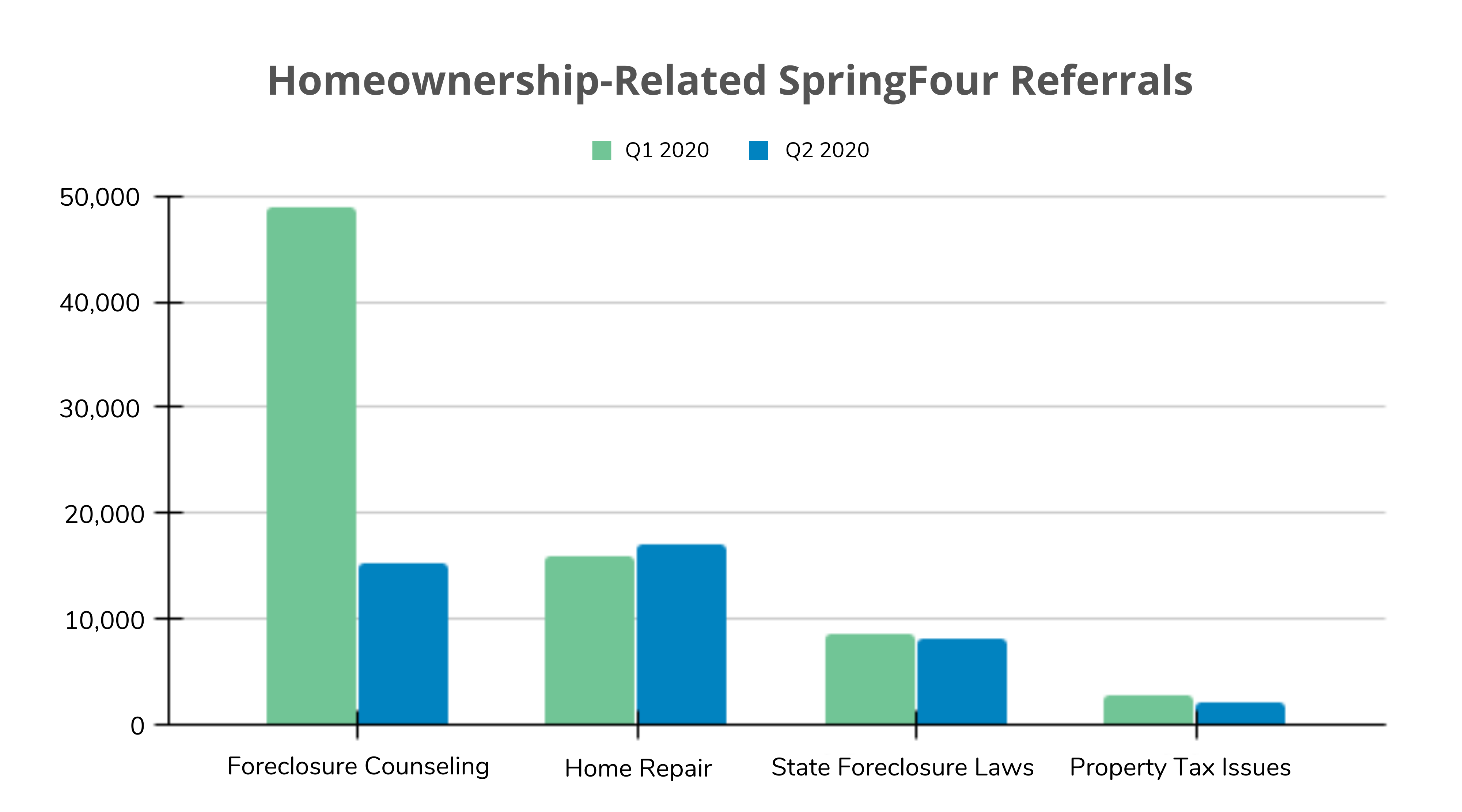 As SpringFour is well aware, the COVID-19 crisis is very different from the 2008 financial crisis that led to record foreclosures and community disinvestment across the country. SpringFour was founded in 2005 as MortgageKeeper, and was built to help families stay in their homes by offering access to local financial resources that could help address the root cause of the inability to pay a mortgage or other monthly bills. We saw the devastation wrought by the 2008 crisis and helped thousands of families through that difficult time. 
But this time, things are different. First, this is a different type of crisis. In 2008, the crisis was created within the financial and housing markets themselves, through unscrupulous practices and pricing. The markets were bifurcated in such a way that collapse was practically built into them. Thus, in the first half of 2010, 1.65 million American homes went into foreclosure, according to ATTOM Data Solutions. In the first half of 2020, barely 165,000 loans were hit with foreclosure actions, and ATTOM is predicting a total of 200,000-500,000 total foreclosures from COVID-19. This time, we are dealing with a global pandemic that is first and foremost a public health crisis, as opposed to a crisis of inflated market values or negative home equity. Due to the far-reaching nature of the current crisis, the housing market is just one component of the economy experiencing a shock, and this is due largely to the surge in unemployment and uncertainty in longevity of the small business sector. 
This crisis is a jobs crisis, brought about by a public health crisis. Low-and moderate-income households have been particularly hard hit by job and income loss. A SpringFour survey of LMI households shows that more than a quarter of these households have been furloughed or had hours reduced due to the pandemic, causing 40% to delay nonessential purchases.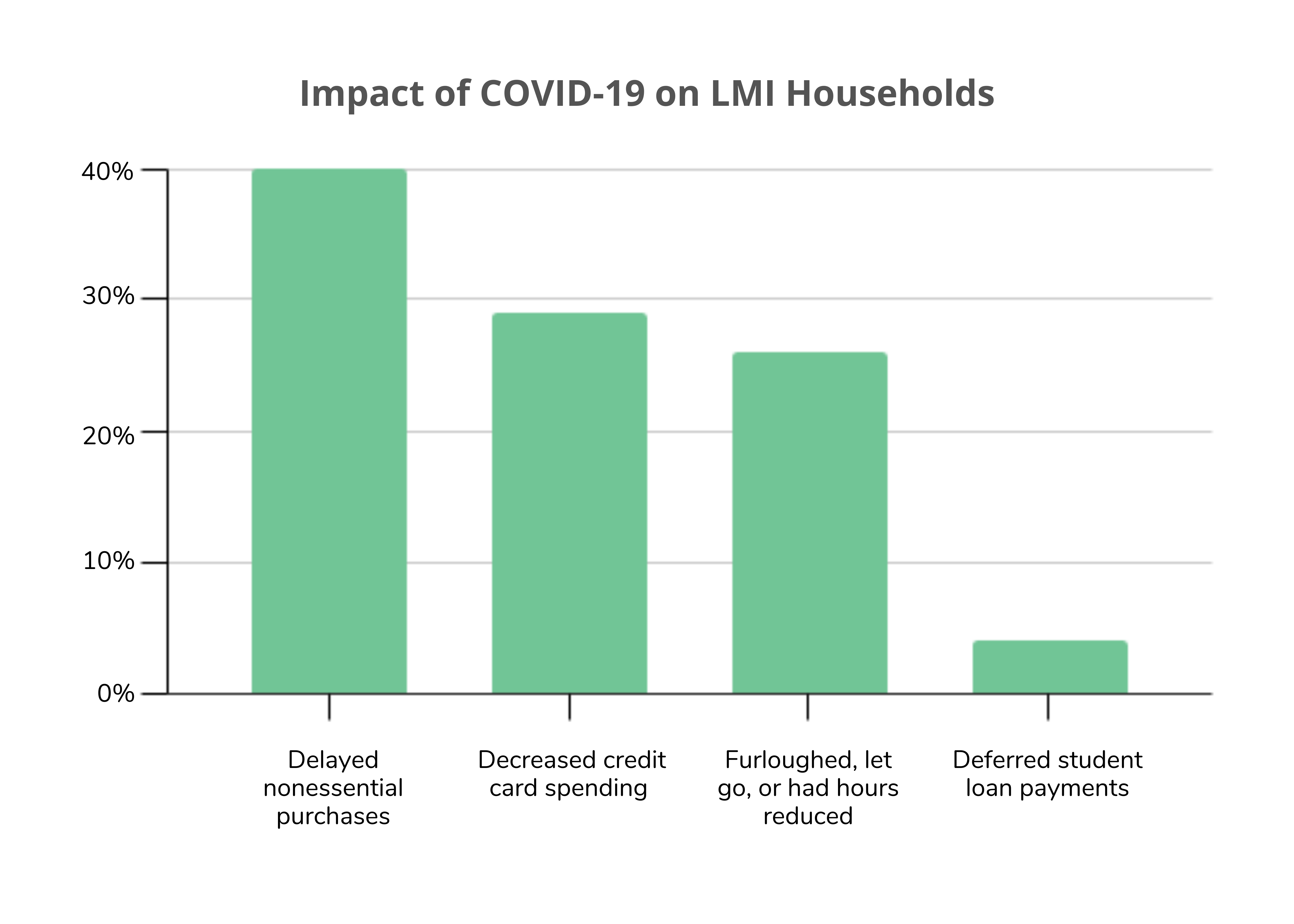 Thus, while the financial and housing markets did not create this crisis, they definitely could, and SpringFour believes, should, play a major role in helping to mitigate it. In addition to continuing to offer mortgage forbearance programs, banks and other lenders can help customers potentially stave off foreclosure by limiting or eliminating fees on a temporary basis, allowing payment deferrals, freezing interest rates, and instituting other hardship programs. History has shown us that doing so, is not only good for the customer but business as well. 
We know, for example, that housing and foreclosure prevention counseling programs work. A 2018 study by the Urban Institute of the National Foreclosure Mitigation Counseling (NFMC) program found that counseled homeowners were 67% more likely to remain current on their mortgage nine months after receiving a loan modification–and that counseled borrowers were more likely to get a modification in the first place.  Building off of this knowledge and the lessons of the 2008 crisis, banks and lending institutions are in a much better position to work with partner organizations to help stave off another foreclosure crisis.  And we know through our work that borrowers who receive SpringFour referrals are twice as likely to engage in foreclosure prevention programs than those who do not receive our referrals.
"BALANCE is preparing for a significant increase in foreclosure prevention and rental counseling once the moratoriums and forbearances conclude in January. It is important for those in need to have access to a knowledgeable and unbiased resource, such as a HUD certified housing counselor. We would also encourage those impacted by COVID-19, whether they are currently struggling or think they will be struggling with their mortgage or rent, to reach out to discuss their options now. There is no need to wait until the New Year. Time is of the essence, as we learned during the previous crisis. It is important for those impacted to maintain communication with their mortgage servicer or property owner." 

-Linda Davis-Demas, Senior Director of Housing, BALANCE
Moreover, now more than ever, financial institutions should partner with experts in the field who know how to help families access the resources they need and deserve in order to get through a widespread crisis outside of their control. For example, with its financial institution partners, SpringFour has already provided well over  2 million referrals to struggling families in the year 2020. Almost half of these referrals are in the basic need categories of food assistance, financial assistance, employment services, and rental resources. Our survey of LMI households shows us that families feel they need a large safety net that they do not have access to currently, they do not know where to turn for help, and they would welcome assistance from their bank or lender to get them through this long-term crisis:
Key takeaways from SpringFour survey of LMI households, August 2020: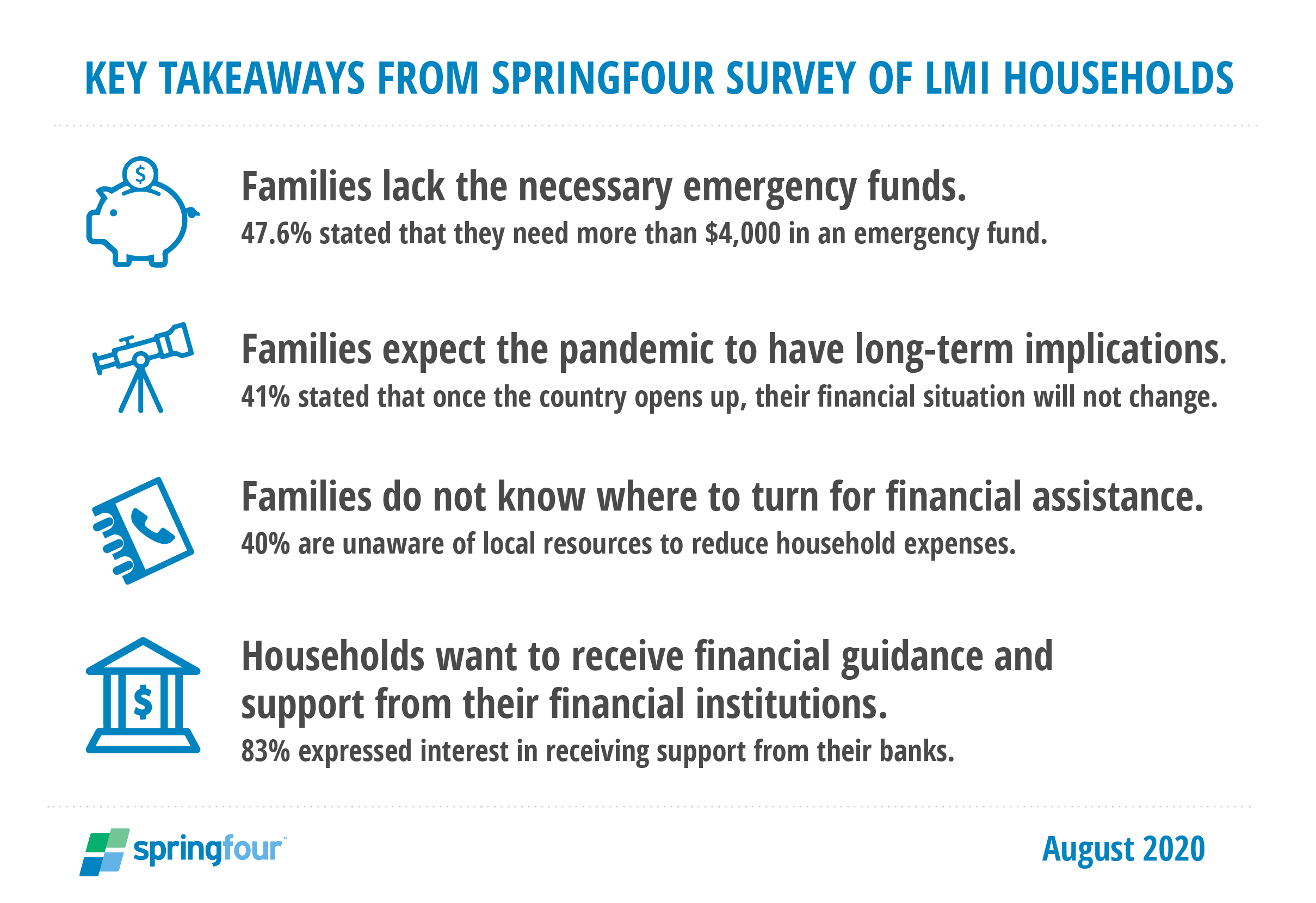 While families struggle to pay for basic necessities, banks and lenders can and should help them avoid the most devastating consequence of any financial crisis–the loss of their home through foreclosure and the potential for not only homelessness but overall community disinvestment that could last a lifetime and impact future generations. SpringFour is here to help banks and lenders be that partner in financial wellness, and to do everything we can to ensure people can stay in their homes. SpringFour offers a wealth of resources that can help prevent foreclosure, including:
Referrals to local HUD-certified counselors that can help people budget before foreclosure hits and also help them navigate their options;

A tip sheet with information about mortgage relief options during the pandemic; and

A wide range of financial health resources that can help families save money in other areas so that it is easier to stay on top of mortgage payments
Please feel free to contact Katy Jacob at
katy@springfour.com
to talk about how we could work together to help families hold on to their American dream of homeownership.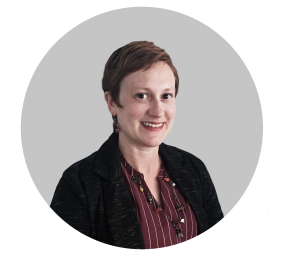 Katy Jacob
VP of Research & Impact, SpringFour

DRIVE IMPACT WITH US
For all inquiries: info@springfour.com
866-732-2246
Chicago Office at 1871
222 Merchandise Mart Plaza
STAY UP TO DATE WITH SPRINGFOUR
[/db_pb_signup]