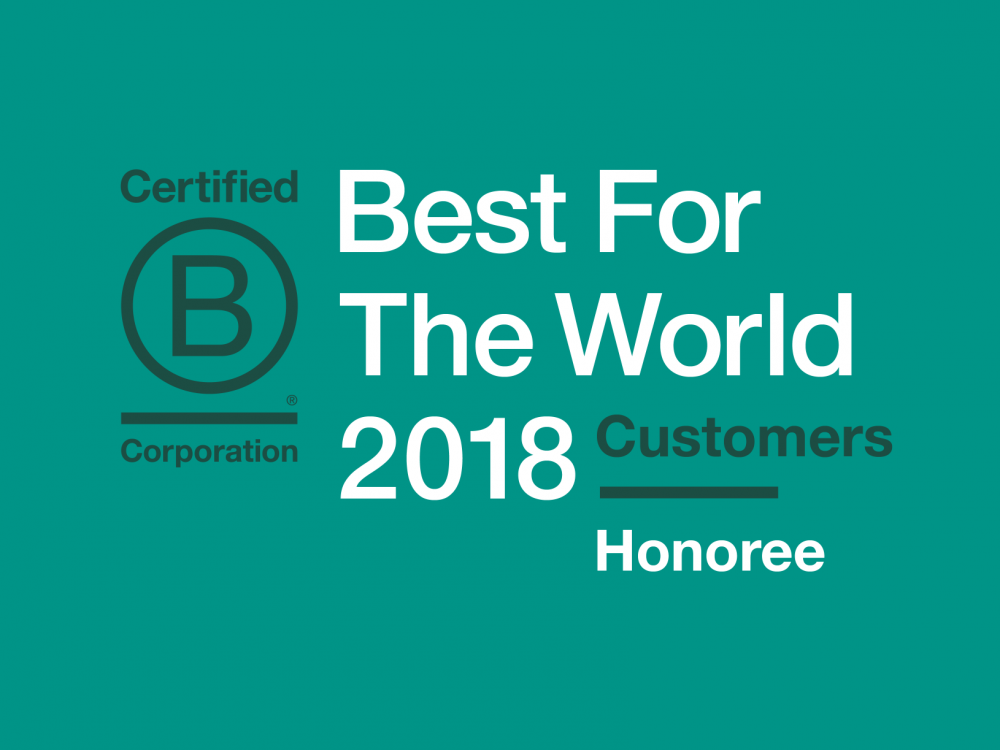 Recently, we were honored as one of the 
Best For the World
 by the B Lab.
Each year, the B Lab recognizes Certified B Corporations for their outstanding positive impact. As a part of this community, SpringFour is using business as a force for good.
And in doing so, we have a lot of happy customers.
As One of the Best For the World in the Customer category, we have been recognized as a company that "aims to improve the lives of their customers through the use of their product or service."
To our team here at SpringFour, this honor means a lot. It's honors what we strive to do every day at SpringFour—improve people's lives through connections to important services, tools, and products that can help see them through a financial challenge and help them to better days. And this has been our goal since our company was founded back in 2005.
In order to be recognized in the Best for the World: Customers List for 2018, A Certified B Corporations needs to have a B Impact Assessment score in the top 10 percent of the entire global community. This assessment area measures the impact a company has on its customers by focusing on whether a company sells products or services that promote public benefit and if those products/services are targeted towards assisting underserved populations.
We are proud of our work, our team, and the commitment we have shown since day one to create access and pathways for people to get the help they need and deserve to live a financially healthy life. It's an honor to have made this list.
We chose to undergo the rigorous process of becoming a Certified B Corporation because we want everyone we do business with to understand that at SpringFour, impact is what drives us each and every day. We want to hold ourselves to a higher degree of accountability and social impact. We believe our Certified B status tells our customers, partners, and other stakeholders that we are more than a financial technology company, that we are committed to our mission of connecting consumers to the local financial resources that they need and deserve.
We are especially pleased to learn that two of our customers, Beneficial State Bank and Sunrise Banks are also joining us on this list for their outstanding work and leadership. We are proud to be in their company.
You can find the complete list of all Certified B Corporations receiving this honor here. 

GET IN TOUCH
For all inquiries: info@springfour.com
866-732-2246
Chicago Office at 1871
222 Merchandise Mart Plaza
STAY UP TO DATE WITH SPRINGFOUR
[/db_pb_signup]